Torre de la Horadada
Torre de la Horadada guide, holiday rentals, property, map, weather, hotels, car hire, airport transfers, golf, markets.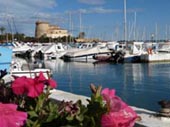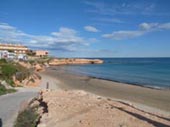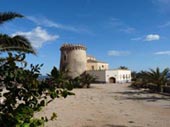 Costa Blanca Resorts - Torre de la Horadada
Torre de la Horadada Spain - One of the most southerly resorts on the Costa Blanca, Torre de la Horadada is a quiet but popular coastal resort with some fine beaches, it basically grew as the coastal limb of the nearby town of Pilar de la Horadada which has a good range of facilities with plenty of shops, bars and restaurants and even a cinema which shows films in English (with Spanish subtitles!).
To the south of Torre de la Horadada lies the Mar Menor and the beautiful Costa Calida coastline of the Murcia region of Spain. To the north you will find all the popular resorts of the Orihuela Costa, Mil Palmeras, Campoamor, Cabo Roig, La Zenia, Playa Flamenca, Punta Prima and beyond these, Torrevieja and Alicante.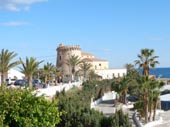 The surrounding coastline suffered many pirate attacks between the 13th and 17th centuries and the ancient watchtower was built to warn local inhabitants of impending attacks. The tower communicated with other along the coast by lighting bonfires and using other signals.
Golfing enthusiasts will love this location as there are numerous fine course nearby including the 3 Orihuela Costa courses (Villamartin, Campoamor and Las Ramblas), and the Lo Romero Golf Course, also nearby is Campoverde and a little further south the many fine golf courses of the Murcia region.
Torre de la Horadada Weather - The weather in Torre de la Horadada is generally warm and sunny all year round and the resort enjoys a wonderful temperate Mediterranean climate with hot summers and mild winters, making it a perfect location for a vacation or for re-location. There are a selection of homes to buy or rent in Torre de la Horadada and you should have no problem finding a suitable property (look below).
Torre de la Horadada is situated just off the N-332 coast road is easily reached from both Murcia (San Javier) airport (about 15 minutes drive) and Alicante airport (45 minutes drive) by way of the AP-7 motorway.
Torre de la Horadada Pages: Torre de la Horadada Map - Torre de la Horadada Weather
Nearby Places: Pilar de la Horadada - Mil Palmeras - Campoverde - Torrevieja - Cabo Roig - La Zenia - Campoamor - Playa Flamenca - San Miguel de Salinas - San Pedro del Pinatar - Santiago de la Ribera
More Golf Courses: Villamartin - Las Ramblas - Campoamor - Lo Romero Golf - Roda Golf Resort - Mar Menor Golf Resort - Spain Golf Courses
Related: Orihuela Costa - Alicante - Murcia - Orihuela - Ciudad Quesada - Benidorm - Mar Menor - Cartagena - Builders