Pilar de la Horadada Spain
Pilar de la Horadada, pictures and guide to the resort on the Costa Blanca, Spain.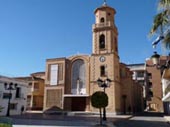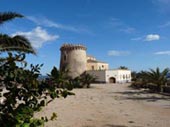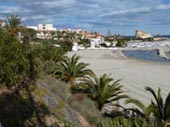 Costa Blanca Resorts - Pilar de la Horadada
Pilar De La Horadada Spain - The most southerly town on the Costa Blanca, Pilar de la Horadada, together with its coastal arm, Torre de la Horadada, has a population of 21,424 (2008) and is a popular destination for holidays and holiday homes. Named after its 16th century watchtower ("La Torre"), Pilar de la Horadada has some fine sandy beaches and a good range of facilities. It is in the Alicante province of the Comunitat de Valencia, just south of the ever popular Orihuela Costa, and just north of the emerging Mar Menor area.
While today, having the look of a modern town, Pilar de la Horadada actually has a very long history and was settled way back in Iberian times in the centuries BC. Further established by the Romans as Thiar, an enclave on the important Via Augusta road between Carthago Novo (Cartagena) and Ilici (Elche), Pilar de la Horadada's Roman quarry would have supplied much of the stone which was used to construct this significant highway.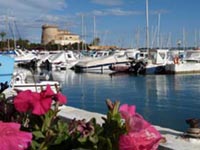 Settled by the Moors in the 8th century, Pilar de la Horadada remained under Muslim control until the 13th century, after which it became a border town between the Spanish Kingdoms of Castile and Aragon.
The surrounding coastline suffered many pirate attacks between the 13th and 17th centuries and the ancient watchtower was built to warn local inhabitants of impending attacks. The tower communicated with other along the coast by lighting bonfires and using other signals. After the Spanish Civil War (1936-39), Pilar de la Horadada fell into decline and was largely forgotten by its administering town, Orihuela, some 36 kilometres distant. The high spot in Pilar de la Horadada's history came in 1986 (30th July) when it gained its independence from Orihuela.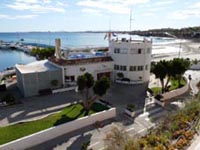 Pilar de la Horadada today is a developing town with open spaces, pretty squares and gardens, it has a large sports centre (just outside the town), with a huge range of facilities for different sports, it includes a large heated indoor swimming pool, tennis courts, football pitches, badminton courts (there is a successful badminton club which caters for UK citizens and all nationalities), petanque and much more, it also has an attractive marina where you will find the Club Nautico Torre de la Horadada (Sailing Club) which is located close to the watchtower.
In the town itself there is a cinema which screens films in English (with Spanish subtitles!), though this was due to close due to lack of support, and I cannot at this moment confirm if it still exists. I have been there myself on several occasions and found it to be excellent.
To catch up on the history of the area, head for the Gratiniano Batches Museum, which features archaeological, ethnographic and environmental exhibitions. Don't forget to visit the attractive 19th century church of Our Lady of the Virgin of Pilar, with its prominent bell-tower (pictured higher up this page).
For nature lovers, the areas around the town are rich in flora and fauna, the tidal sections support an incredible variety of marine life, with rich oxygenated waters supporting aquatic species such as pipefish, seahorses and wrasse, the birdlife is varied too, you are likely to spot curlew, grey herons, egrets, turnstones and plovers. Inland, the Rio Seco & Sierra Escalona, have some varied plant species with rare orchids and dwarf palms, growing alongside the more common thyme, foxglove, juniper and camomile.
Pilar de la Horadada Golf: Golfers are well catered for with the Lo Romero a short drive away on the road to Campoverde (also called Pinar de Campoverde) and the three courses of the Orihuela Costa (Villamartin, Las Ramblas and Club de Golf Campoamor), only 10 minutes drive away, additional golf courses are available heading towards the Mar Menor and Murcia, these include the Roda Golf Resort, La Serena Golf and the Mar Menor Golf Resort.
Pilar de la Horadada Hotels: There is a limited choice of Pilar de la Horadada hotels, among them the the Hotel Congra (0034 965 352 101), the Hotel Monte (0034 965 766 270) and the Hostal Eugenio (0034 966 766 424).
Pilar de la Horadada Beaches: There are several Pilar de la Horadada beaches to choose from including Playa Conde, Playa las Higueras, the Harbour Beach and Playa los Jesuitas. With a car you can also easily reach the beaches of the Mar Menor, including San Pedro del Pinatar, Lo Pagan, Santiago de la Ribera, Los Alcazares and San Javier. Also el Mojon beach, and the beaches of the Orihuela Costa, including Mil Palmeras, Campoamor, Cabo Roig, La Zenia and Playa Flamenca.
Pilar de la Horadada Fiestas: As is typical in Spain there are plenty of Pilar de la Horadada fiestas to enjoy, check with the tourist office (by the church) for events during your stay, some of the best are the Carnival in February, the Pilgrimage of San Isidro in May, the San Juan Bonfires in June, and the Fiesta Mayor de Nuestra Señora la Virgen del Pilar in October.
Pilar de la Horadada Markets: The main local street market in Pilar de la Horadada on Fridays, other nearby markets include Campoamor (Thursdays), Torrevieja (Fridays), and San Pedro del Pinatar (Mondays).
Pilar de la Horadada is situated just off the N-332 coastal road between Torrevieja and San Pedro del Pinatar, it is about 10 minutes drive from San Javier airport (Murcia airport). Heading north on the N-332 you will pass the Orihuela Costa resorts of Mil Palmeras, Campoamor, Cabo Roig, La Zenia, Playa Flamenca, Punta Prima and then the town of Torrevieja, on the way to Alicante.
Pilar de la Horadada Pages: Pilar de la Horadada Map - Pilar de la Horadada Weather
Nearby Places: La Zenia - Campoamor - San Miguel de Salinas - Santiago de la Ribera - San Javier
More Golf Courses: Las Ramblas - Campoamor - La Finca - Spain Golf Courses
Related: Murcia - Ciudad Quesada - Benidorm - Cartagena - Builders