Campoverde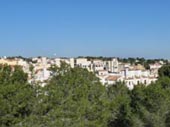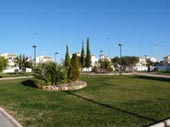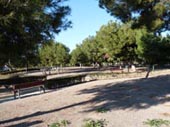 Costa Blanca Villages - Campoverde
Campoverde Costa Blanca - Situated close to the town of Pilar de la Horadada at the southernmost end of the Costa Blanca is the small Spanish village of Pinar de Campoverde, just 8 kilometres from the coast, Campoverde (as it is most often called) is located in a peaceful, undeveloped area surrounded by wooded countryside and offering pleasing views of the nearby Mediterranean Sea.
A short distance to the south of Campoverde is the area known as the Mar Menor (Lesser Sea) with some fabulous resorts and safe sandy beaches, its shallow, warm waters are ideal for young families and it is very safe, to the north of Campoverde is the even busier Orihuela Costa district with some of the most popular resorts in this part of Spain, these include Mil Palmeras, Dehesa de Campoamor, Cabo Roig, La Zenia, Playa Flamenca, Zeniamar, Los Altos, Los Balcones and Punta Prima, most have excellent 'blue flag' beaches and excellent facilities.
Campoverde has a large percentage of British expats and other non-spanish residents.
In the heart of the village of Pinar de Campoverde you will find a variety of restaurants and bars, a bank and also a handy supermarket for stocking up on groceries and supplies, there are sporting facilities in the form of swimming pools and tennis courts, and a regular bus service transports locals to and from Pilar de la Horadada, there is also a street market held on Sundays offering fresh fruit and vegetables, bread and cakes and other products.
The local restaurants in Campoverde offer a decent variety of cuisines to suit all tastes.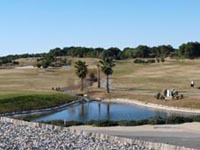 Golfers heading to Campoverde will find that there are a great selection of courses nearby, in fact you will be spoiled for choice thouwell liked gh the closest and easiest to access are the Lo Romero course and the three courses of the Orihuela Costa are especially well liked (Club de Golf Campoamor, Villamartin Golf Course, and Las Ramblas Golf), further afield you can head south towards Cartagena and Murcia you will find plenty of new golf courses and golfing developments.
Sports fans will find even more and better facilities in Pilar de la Horadada which boasts a fantastic sporting complex with lots of fine facilities for sports such as football, tennis, petanque (boules), badminton, swimming, bowls and table tennis.
To the north and east of the village is the Rio Seco, a preserved Nature Reserve called, well worth a visit if you like walking or hiking.
Campoverde is a restful spot and it is not hard to understand why many expats have chosen to settle there, living among the pine forests in a tranquil hillside location away from the hustle and bustle of the coastal resorts. The weather is of course another big factor which attracts the Brits, with in excess of three hundred sunny days each year, who would want to live anywhere else?
Pinar de Campoverde is within easy driving distance of both San Javier (known as Murcia airport) and Alicante airports - Murcia airport is approximately twenty minutes drive, whilst Alicante is a little further at around fifty minutes.
While its full name is Pinar de Campoverde most people just refer to it as Campoverde.
Pinar de Campoverde is in the Alicante province of the Communidad de Valencia.
To get to Campoverde, take the CV-925 from the N-332 coast road. The AP-7 motorway is also nearby and you should exit at junctions 770 or 774.
Campoverde Links: Campoverde Map - Campoverde Weather
Other Nearby Resorts: Torre de la Horadada - Campoamor - San Pedro del Pinatar - Santiago de la Ribera - Punta Prima - San Miguel - Los Alcazares
Other Golf Courses: Las Ramblas - Campoamor - La Finca - La Marquesa - Roda Golf - Spain Golf Courses
Related: Orihuela Costa - Torrevieja - Alicante - Orihuela - Ciudad Quesada - Playa Flamenca - Benidorm - Cartagena - Builders