Ciudad Quesada Costa Blanca
Quesada guide, holiday rentals, property, map, weather, car hire, airport transfers, golf.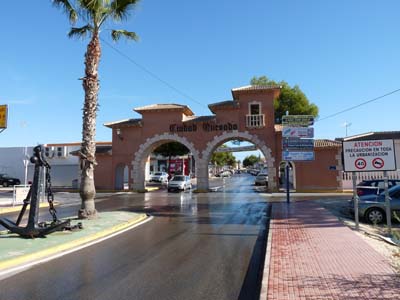 Quesada Spain - Holiday Rentals - Property - Car Hire - Golf - Transfers
Quesada: A town located 11 kilometres inland from Torrevieja, on the southern Costa Blanca, Spain, Quesada (Ciudad Quesada) is a modern development, that was built as a result of a dream by local man Justo Quesada Samper.
His dream to build a city where people could prosper and live in harmony, began to materialise in 1972, as construction on this new city began, in the name of the man who dreamt it up. The dream was completed by the opening of Quesada's new Town Hall in 1999.
Climbing a hillside, beside the more historic town of Rojales, Ciudad Quesada has spread even further since 1999 and cover significant areas of land around the hillside. Atop the hill you will find an excellent water park, which is somewhat cheaper and less crowded than the Torrevieja water park (Aquopolis).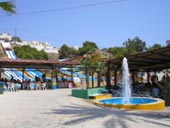 Visitors access Quesada through the iconic arched gateway standing close to the CV-90, Torrevieja road. Through the gateway, you will find the main commercial area for the city, with lots of cafes, restaurants, bars, banks and shops, there is also a Medical Centre and a Social Club.
Towards Rojales you will find the La Marquesa Golf Course, again designed by Justo Quesada Samper, a popular Par 72, 18-hole course.
Close by is the Parque Natural de La Mata y Torrevieja, a protected nature reserve and important conservation area. The beaches of Torrevieja, The Orihuela Costa and Guardamar del Segura, are a little further away, but reachable in around 15 minutes.
Ciudad Quesada is easy for visitors to access, being right beside the AP-7 motorway (junction 745, Torrevieja Norte), it can also be easily reached from Rojales and from Torrevieja by way of the CV-90. Alicante is only a 30 minute drive away, with San Javier airport a similar distance.
Quesada Links: Ciudad Quesada Guide - Quesada Map - Quesada Weather
Quesada airport driving distances: Murcia (San Javier) airport to Quesada is a driving distance of 44 kilometres (27 miles), Alicante airport to Quesada is a driving distance of 56 kilometres (35 miles).
More Nearby Places: Benijofar - Algorfa - Benejuzar - Almoradi - La Marina -La Mata
Attractions: Cave Houses Rojales - Rio Safari Elche
More Golf Courses: Villamartin - Las Ramblas - Campoamor - La Finca - Spain Golf Courses
Related: Orihuela Costa - Alicante - Murcia - Orihuela - Cabo Roig - Playa Flamenca - Builders