Costa Dorada
Guide to the Costa Dorada region of north-eastern Spain.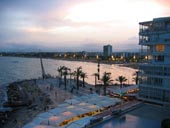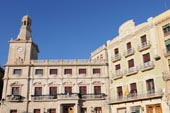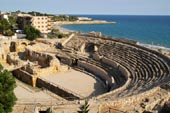 Spanish Regions - The Costa Dorada (Daurada)
The Costa Dorada ('Gold Coast') extends southwards from Barcelona roughly to Cambrils south of the city of Tarragona, it comprises around 216 kilometres of coastline in the provinces of Barcelona and Tarragona, within the autonomous region of Catalonia in north-eastern Spain.
Less well know to tourists than the Costa Brava to the north, the Costa Dorada has miles of golden sandy beaches which are still relatively unspoilt by tourism. The area still has its popular coastal resorts and the four main one are La Pineda, Salou, Sitges and Cambrils all well served by the international airport at nearby Reus.
Probably the best known resort on the Costa Dorada is Salou, with its miles of gently shelving, sandy beaches and its wonderful Mediterranean climate it is a perfect location for a family holiday. Its palm-lined promenade has been recently modernised and improved and it boasts a good selection of shops, bars and restaurants together with ample accommodation and superb water sports facilities. Salou although now a modern resort has a long and interesting history, known to the Romans as Salauris, it later became renowned as the port from where Jaime I sailed to conquer Mallorca in 1229.
Cambrils is a small town with around 24,000 inhabitants, it has a fine seafront promenade and about 9 kilometres of wonderful sandy beaches on the Mediterranean Sea. Particularly noted for its superb seafood restaurants, Cambrils has a long seafaring heritage, fishing has been one of the mainstays of the town's economy since early times and visitors can still see the days catch being unloaded in the harbour. Cambrils has also been important for the production of olive oil, made from locally grown olives.
The other main resort of the Costa Dorada is La Pineda, again popular for its wonderful sandy beaches, La Pineda also boasts a fine water park (Aquopolis) and the famous Port Aventura theme park a popular destination for visitors to the area. The Port Aventura Park was built by Universal Studios and comprises 5 main areas representing the Mediterranean, ancient China, Polynesia, the Far West and Mexico. The Port Aventura theme park is open throughout the year.
The main regional centre for the Costa Dorada is the city of Tarragona, with its population of 130,000, it has a history going back to Roman times when it was known as Tarraco, though it was possibly founded by the Phoenicians several centuries before the Romans arrived on the Iberian Peninsular.
Costa Dorada Links: Costa Dorada Guide - Costa Dorada Map - Costa Dorada Weather
Costa Dorada Attractions: Port Aventura - River Ebro Fishing
Costa Dorada Hotels: Salou Hotel Calypso - Salou Hotels
Costa Dorada Golf: Golf Bonmont Terres Noves - Spain Golf Courses
Costa Dorada Places: Alcanar - Altafulla - Cambrils - La Mora - La Pineda - Miami Playa - Mora D'Ebre - Salou - Sitges - Tamarit - Torredembarra - Tortosa
Costa Dorada Cities: Tarragona - Reus
Related: Catalonia - Catalonia Map - Catalonia Weather - Builders