Salou Spain
Salou holiday rentals, property, hotels, car hire, airport transfers, golf, history, guide.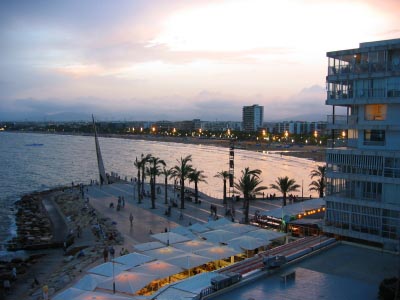 Costa Dorada Resorts - Salou
Salou Spain - Without doubt the best known coastal resort on the Costa Dorada coastline, Salou is not everyone's cup of tea, with very little of the traditional Spanish feel and very much of the mass tourism resort about it. Popular nonetheless, Salou is a mostly made for tourism resort with a sprawling mass of hotels and apartment blocks.
Just 10 kilometres from the provincial capital Tarragona and about 12 minutes drive from Reus International Airport, Salou is ideally located and easy to reach. Despite its modern resort look and reputation, Salou actually does have some history attached to it, and was used as a trading post by the Greeks and the Romans in the centuries BC.
The name of the town derives from the Greek Salauris, and was founded as the Greeks set up trading posts along this stretch of Spain's north-eastern coast. The settlement was taken over by the Romans as they set up their base in nearby Tarragona for the conquest of the Iberian Peninsular, it continued as a trading post during their time in Spain.
After the fall of the Roman Empire, the area fell into decline, though Salou was notable in being the point of departure for Jaime I (Jaume I), as he set off to free Mallorca and the Balearic Islands from Muslim control.
Salou today attracts many thousands of visitors and is especially popular with the British, regular flights arriving daily at Reus airport from the UK. Among the attractions which tempt these many visitors is the huge Port Aventura theme park, one of the largest in Europe, this amazing park with its own RENFE railway station boasts an amusement park, a water park, a beach club and three 4 Star hotels (read more about Port Aventura here: Port Aventura).
Salou of course has some wonderful sandy beaches and one of its most attractive landmarks is the beautiful palm studded promenade (Passeig Jaume I), which winds its way along the coast, from the promenade you can access the many beaches including the largest one Platja Llevant (Llevant Beach).
Salou has plenty of other facilties and has a huge range of shops, bars and restaurants, with plenty of British style 'pubs' to please its UK visitors. Sports enthusiasts will not be disappointed with golf (Club de Golf Reus Aiguesverdes, Golf Cambrils, and Golf Bonmont nearby), sailing, cycling, hiking, para-gliding, windsurfing, scuba diving, tennis and horse riding all well catered for.
For culture, head for the city of Tarragona with lots of historic buildings and some fine Roman ruins.
Salou Hotels: Salou has a huge choice of hotels, take your choice from the Hotel Golden Port Salou, the Hotel Salou Princess, the Aparthotel Golden Salou, the Hotel Belvedere Salou, Hotel Calypso and the Hotel Playa Park.
Salou Markets: The main weekly market in Salou is held on a Monday, nearby Cambrils is on a Wednesday.
Salou Fiestas: Salou fiestas include the Fiesta de San Juan takes place in June, the Summer Fiesta in August and the Catalan National Day in September. Real fiesta hounds could visit Tarragona the provincial capital where you could enjoy the Carnival (February), the Fiestas de Santa Tecla (September) and the Fiesta of St Magi in August.
Salou Camping: There are plenty of camping facilities near to Salou, a couple of options are the Sanguli Salou Camping Resort at Passeig Miramar-Plaça Venus - 43840 Salou - Tarragona. Tel. (0034 977 381 641), or the Camping La Pineda de Salou site at Carretera de la Costa Tarragona a Salou, Km.5 - 43481 - La Pineda - Tarragona (0034 977 373 081).
Salou is situated on the C-31B and can be easily accessed from the A-7 and AP-7 motorways, it is close to the cities of Reus and Tarragona and is in fact only 12 kilometres from Reus airport, Barcelona is around 100 km away.
Salou Links: Salou Map - Salou Weather
Salou Hotels: Hotel Calypso
Salou Attractions: Port Aventura
Costa Dorada Attractions: River Ebro Catfish Fishing
Costa Dorada Golf: Golf Bonmont Terres Noves - Spain Golf Courses
Costa Dorada Places: Altafulla - La Mora - Miami Playa - Mora D'Ebre - Sitges - Tamarit - Torredembarra - Tortosa
Salou airport driving distances: Reus airport to Salou is a driving distance of 12 kilometres (8 miles), Barcelona airport to Salou is a driving distance of 100 kilometres (62 miles).
Related: Catalonia - Catalonia Map - Catalonia Weather - Builders