Punta Prima Orihuela Costa
Punta Prima guide, holidays, property, map, weather, hotels, car hire, transfers, golf, markets.
Punta Prima - Holiday Rentals - Property - Hotels - Transfers
Punta Prima: One of the attractive and popular coastal resorts of the Orihuela Costa section of the southern Costa Blanca, Punta Prima is the first resort you reach as you head south from Torrevieja.
Like all the Orihuela Costa resorts, it has its own sandy "Blue Flag" beach, and its own commercial areas, where visitors can find all the shops, bars, cafes and restaurants they should need on their holiday.
Beside the Punta Prima roundabout (on the N332) the new Punta Marina commercial centre has added significant new facilities to the area, including a McDonalds restaurant (which may not be everybody's idea of a good addition). On the inland side of the N332 you will find the urbanizations Los Altos, La Cinuelicas, Los Balcones and Zeniamar.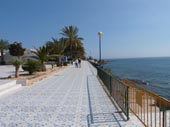 A nice place for a stroll is the seafront promenade, which heads along towards Playa Flamenca, though you will need to take to rough ground to get all the way to this neighbouring resort.
An excellent facility for the kids in Punta Prima (and the grown ups too for that matter) is the Go-Kart track, located on the inland side of the N332 as you head towards Playa Flamenca. Beside the Go-Karts there is now a small kids funfair and a paintballing area, plus sometimes a circus and other attractions (take a look to see what is currently there). For local street markets head into Playa Flamenca on a Saturday, Cabo Roig on a Thursday, or Torrevieja on a Friday.
Punta Prima is also a good spot for golfers with Villamartin, Club de Golf Campoamor and Las Ramblas courses nearby, and other other courses such as La Marquesa, Lo Romero and La Finca also within easy reach.
Punta Prima has just one hotel, if that is your choice of accommodation, and this is the Torrejoven Hotel, which beside Punta Prima roundabout on the N332. There are more hotels in Torrevieja, and there is also the La Zenia Hotel. Other accommodation choices would include self-catering villas and apartments.
You can book the Torrejoven Hotel Punta Prima at the cheapest rates by using the search box on the right.
Easily reached from either San Javier or Alicante airport, Punta Prima has good road communications, and a bus service which passes along the N332, between Cartagena and Alicante.
You may have arrived at this page by mistake as there is a resort called Punta Prima on the island of Menorca in the Balearics, if that is the case you can find the correct resort here: Punta Prima Menorca.
Located on the N332 coast road to the south of Torrevieja, Punta Prima can also be reached from the AP-7 motorway (Salinas exit). Heading south from Punta Prima, you will reach Playa Flamenca, La Zenia, Cabo Roig, Campoamor and Pilar de la Horadada respectively. Past Pilar is the Costa Calida region and the Mar Menor resorts.
Punta Prima Pages: Punta Prima Map - Punta Prima Weather - Orihuela Costa Map - Punta Prima Menorca - Holidays
Punta Prima airport driving distances: Murcia (San Javier) airport to Punta Prima is a driving distance of 28 kilometres (17 miles), Alicante airport to Punta Prima is a driving distance of 72 kilometres (45 miles).
Nearby Places: Campoamor - Pilar de la Horadada - Mil Palmeras - San Miguel de Salinas - Torre de la Horadada
View Torrevieja Hotels: TORREVIEJA HOTELS
More Local Golf Courses: Las Ramblas - Campoamor - La Finca - Lo Romero - La Marquesa - Roda Golf - Mar Menor Golf Resort - Spain Golf Courses
Related: Orihuela Costa - Orihuela - Ciudad Quesada - Benidorm - Mar Menor - Cartagena - Builders