Santa Pola Costa Blanca
Santa Pola guide, holiday rentals, property, map, weather, hotels, car hire, airport transfers, golf.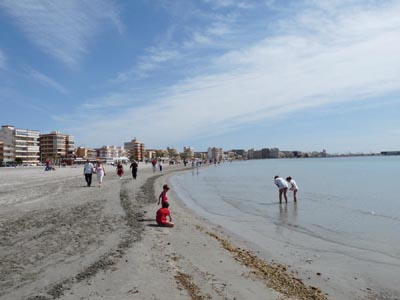 Santa Pola - Holidays - Hotels - Property - Car Hire - Transfers
Santa Pola: Located just south of the Costa Blanca city of Alicante, the former fishing village of Santa Pola, is now a bustling holiday town which attracts both Spanish and International visitors.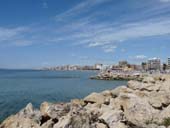 Boasting miles of sandy beaches and being especially popular with kite surfers, due to the excellent wind conditions experienced along this stretch of the Costa Blanca coastline, Santa Pola has so much to offer visitors.
Santa Pola is not a modern town either, in fact its history goes way back to the times of cave dwellers, who lived in the nearby "Cave of Spiders". Santa Pola later attracted the attention of Phoenician and Greek mariners, who plied their trade along this coast, and they used it as a trading post.
The settlement had become fortified by the 4th century BC, and it became even more significant, with the arrival of the Romans in the first century BC. The void left in Santa Pola after the Romans left was filled with violence and depopulation, as Barbary pirates, raided and sacked along this coast. Fortifications and a castle were built to defend the town.
A popular trip for visitors to Santa Pola, is a boat trip to the island of Tabarca (which can also be reached from Torrevieja). Other attractions include the port and marina, the Museum of Sea and Salt, the seafront promenade, the fun fair (Pola Park) and the aquarium in Francisco Fernanez Ordóñez Square.
Head into Alicante, and you can visit the Santa Barbara Castle, head towards Elche and you can see the Rio Safari Elche, a small safari park with elephant show, parrot show and sea lion show.
Santa Pola has a reasonable choice of hotels, you should also be ablt to find plenty of self-catering villas and apartments, in Santa Pola and neighbouring Gran Alacant.
You can get a quote for hotels in Santa Pola using the search box on this page. Self-catering properties are listed below.
You can access Santa Pola from the N-332 coastal road between Alicante and La Marina, it is about 15 minutes drive from Alicante airport.
Santa Pola Links: Santa Pola Map
Santa Pola airport driving distances: Alicante airport to Santa Pola is a driving distance of 12 kilometres (7.5 miles), Murcia (San Javier) airport to Santa Pola is a driving distance of 74 kilometres (46 miles).
Nearby Places: Elche - Gran Alacant - Rojales - Guardamar del Segura - La Marina - San Fulgencio - Ciudad Quesada - La Mata - Los Arenales
Golf Courses: La Finca - La Marquesa Golf - Spain Golf Courses
Related: Orihuela Costa - Murcia - Orihuela - Cabo Roig - Playa Flamenca - Builders