Los Arenales del Sol
Guide to Los Arenales, a seaside resort on the Costa Blanca, Spain.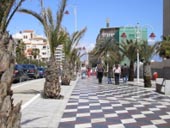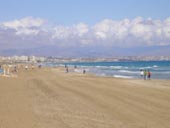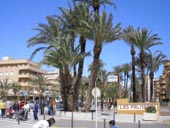 Costa Blanca Resorts - Los Arenales
Los Arenales del Sol: One of the lesser known coastal resorts of the Costa Blanca, and perhaps better known to the Spanish themselves, Los Arenales del Sol, is a surprising gem, just eight kilometres from Alicante city.
Backed by areas of sand dunes and boasting miles of golden sandy beaches, you would expect this place to be packed with visiting holidaymakers. You will mostly find though, if you visit, even in the summer time, a short walk will get you your own little stretch of beach.
Often quite windy, Los Arenales attracts kite flyers and kite surfers, so look out for them in the afternoon, when the wind gets up most days (after 2.00pm).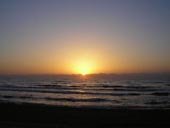 Los Arenales is not the nicest looking resort, and as with many Spanish seaside resorts, the seafront is lined with ugly apartment blocks, and you wonder why some of these towns didn't employ a decent architect with a bit of imagination. But alas we have to put up with it. The promenade is quite attractive however, and lined with palm trees, with the odd seat and kiddies play area (ubiquitous in Spain).
From the seafront and the beach, you can look across and see the city of Alicante, and again at the beach you can get a great view of the sunrise, as I found out when I was picking up at the airport early morning one day.
On a slight downside (as well as its looks), Los Arenales is very close to Alicante airport, and the noise of planes flying over can be a little off putting, though after a while you hardly notice.
Despite its proximity to Alicante, Los Arenales actually comes under the control of the city of Elche, and Elche, which is famous for its palm tree forest, is an interesting place to visit, if you get bored with the beach (and the planes!). You could also visit the much improved Rio Safari Park, between Santa Pola and Elche.
If you are not aware of Los Arenales, you could easily miss it, though it is signposted from the main N-332 coastal road, on the Santa Pola side of Alicante
airport
.
Los Arenales Links: Los Arenales Map - Los Arenales Sunrise Picture
Los Arenales Weather: Los Arenales Weather Forecast
Nearby Places: Gran Alacant - El Campello - Rojales - Guardamar del Segura - Algorfa - Almoradi - La Marina - Ciudad Quesada - La Mata
Attractions: Tabarca Island - Cave Houses Rojales - Rio Safari Elche
Golf Courses: La Finca - La Marquesa Golf - Spain Golf Courses
Related: Torrevieja - Murcia - Orihuela - Builders