Castilla-La Mancha
Guide to the Castilla-La Mancha region.
Spanish Regions - Castilla-La Mancha
Castilla-La Mancha: Up until the 1980's, this region of Spain's vast interior was known as Castilla la Nueva or New Castille. Post Franco changes created this new region of Castilla-La Mancha, with its capital at Toledo.
The name La Mancha was of course made famous throughout the world due to the literary character Don Quixote (Miguel Cervantes 1547-1616), the name though was actually derived from an Arabic word meaning "steppe" or "dry waterless place".
Though of course well known to the Spanish people themselves, Castilla-La Mancha is perhaps one of the least visited regions of Spain, with the exception of the great city of Toledo, which is the seat of the Catholic Church in Spain and the regions major tourist draw. However as the name suggests (Castilla) wherever you are in the region, there is always a castle to visit nearby, so lover of history will always find something of interest in this vast treeless plain.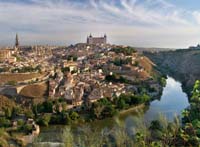 While Toledo may at first appear to be the only place to head, closer investigation will reveal some interesting towns and villages with unique and fascinating histories. Battle lines were drawn here in the struggles between Moors and Christians, and stories of great conflict add to the atmosphere of this place.
The once great Ciudad Real was founded by Alfonso X (Alfonso the Learned) in 1255, and this capital of the province with the same name, though a shadow of its former self, still has some interesting places to visit, especially the cathedral (Iglesia de San Pedro), the Puerta de Toledo, a Mudejar gate being the only remaining section of the ancient fortified walls, the Museo Provincial (close to the cathedral) with many artefacts outlining the history of the town over the ages, and the Museo de Don Quixote, telling the story of Miguel Cervantes fictional character.
Other towns of interest in the Castilla-La Mancha region include Cuenca, Almagro, Alcaraz, Valdepenas, Albacete, Tembleque, Consuegra, El Toboso, Alarcon, Siguenza, Belmonte, Alcala del Júcar, Molina de Aragon and Guadalajara.
The Castilla-La Mancha region has 2 National Parks, the Parque Nacional de las Tablas de Daimiel and the Parque Nacional de Cabañeros. Fascinating castles in the Castilla-La Mancha region include the wonderful Castilla Calatrava (Calatrava la Nueva), the Castilla Chinchilla de Monte Aragon and the Castilla de Belmonte.
Castilla-La Mancha borders 7 of Spain's autonomous regions, Aragon, Castile Y Leon, Valencia, Madrid, Murcia, Extremadura, and Andalucia.
Castilla-La Mancha also boasts the world's largest area of vineyards.
Castilla-La Mancha Info: Castilla-La Mancha Map
Castilla-La Mancha Places: Toledo - Cuenca - Valdepenas - Almagro - Siguenza - Guadalajara - Albacete - Consuegra
Castillo-La Mancha Hotels: TRH Almagro - Parador de Siguenza
Related: Catalonia - Galicia - Madrid - Builders