Madeira Portugal
Guide to the island of Madeira, a popular holiday destination in the Atlantic Ocean.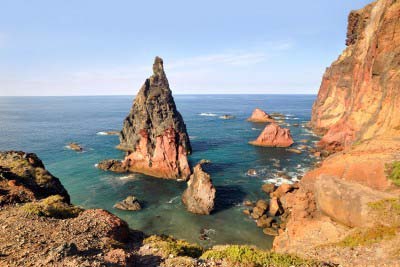 Madeira - Holidays - Car Hire - Hotels - Flights - Villas - Apartments
Madeira - A popular holiday island and an autonomous region of Portugal, Madeira has a population of around 245,000 and an area of 828 square kilometres. Part of an archipelago with volcanic origins, Madeira is located to the north of the Spanish Canary Islands and east of the coast of Morocco.
Discovered for Portugal in 1419 by Henry the Navigator, Madeira may have been discovered much earlier and is possibly one of a group of islands called the Purple Islands by the ancient Romans.
The settlement of Madeira began in around 1425 and its first mention in a written document was as Ilha da Madeira ("wood island") on a map dated 1433. The first islanders existed mostly on a fish diet, though with time, agriculture developed on the island, with wheat being one of the earliest successful crops to be grown, later crops were beet, sugarcane and grapes (for the production of the famous Madeira wine).
Since the 17th century the most important product of the island was Madeira wine, which was considered a luxury drink throughout Europe. Madeira was briefly controlled by the British during the 19th century (1807-1814) and it was the British who greatly promoted the excellence of the Madeira wine.
An important day for Madeira was 1st July 1976, as it was on this day that the island gained its autonomy from Portugal and so have its own government and legislative assembly.
These days tourism is one of Madeira's primary industries with the majority of visitors arriving at Funchal airport. The pleasant weather is one of the main draws for visitors, as is the islands rugged beauty. Among its main tourist resorts are Calheta, Funchal, Canico de Baixo, Machico, Ponta do Sol, Porto Santo, Ribiera Bravo, Santa Cruz and Sao Vicente.
Madeira Links: Madeira Map - Madeira Weather
Madeira Hotels: Cliff Bay Hotel Funchal
Portugal Links: Portugal Factfile - Portugal Map - Portugal Weather
Algarve Places: Albufeira - Portimao - Alvor - Tavira - Vilamoura - Faro - Praia da Rocha - Lagos - Carvoeiro - Sagres - Praia da Luz - Silves - Luz
Portugal Places: Coimbra - Leiria - Lisbon
Related: The Douro River - The Algarve - Travel Articles - Other Places - Builders