Lanzarote Princess Hotel Playa Blanca
Book the Lanzarote Princess Hotel Playa Blanca.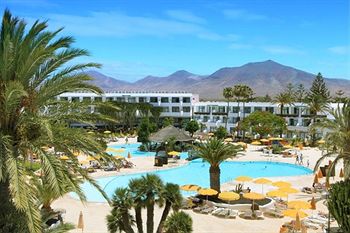 Playa Blanca Hotels - The Lanzarote Princess
Lanzarote Princess Hotel Playa Blanca: Situated just 300 metres from the beach in the popular Lanzarote resort of Playa Blanca, the Lanzarote Princess Hotel is a desirable choice for your accommodation in the resort. Offering over 400 rooms in total, with twins, singles and junior suites, all with air-conditioning, bathroom, terrace, safety deposit box, TV, etc. It is in the south of Lanzarote.
Lanzarote Princess Hotel Address:
H10 LANZAROTE PRINCESS,
C. La Maciot, 1,
Playa Blanca,
35580
Yaiza,
Lanzarote,
Canary Islands, Spain.
Telephone Number: (0034) 928 517 108.
Lanzarote Princess Hotel Playa Blanca: One of the most popular hotels in Playa Blanca, the Lanzarote Princess is nicely located just 300m from the beach, it offers a buffet style restaurant, BBQ restaurant, swimming pools, sun terrace, sun loungers, garden bar, tennis courts, mini-golf, volleyball, day and evening entertainment, internet, laundry etc.
Formerly a traditional fishing village, the south-western resort of Playa Blanca has grown into one of the most popular destinations on the island of Lanzarote. Despite recent development Playa Blanca has retained much of its former charm and has not yet been spoiled by mass tourism. The best place to take a trip to neighbouring Fuerteventura, Playa Blanca also runs trips to the tiny island of Los Lobos.
Playa Blanca enjoys a wonderful climate, with the weather being sunny and mostly dry throughout the year, possibly too hot for some during the traditional English summer months (June, July, August), many choose to visit during the winter months when the weather and temperatures are more pleasant.
Playa Blanca has some nice sandy beaches including Playa Blanca beach, Playa Dorada and Playa Flamingo, a popular place to head just four kilometres south of the resort is Playa de Papagayo, with some pretty little coves and bays.
Playa Blanca is located in the Yaiza district and can be accessed via LZ-2 in south-western Lanzarote, and is about 35km from the airport at Arrecife, which is easily accessible from UK airports, and airports in Spain and Europe.
Playa Blanca Links: Playa Blanca Guide
More Playa Blanca Hotels: Sun Tropical Playa Blanca
Lanzarote Attractions: Jameos del Agua - Timanfaya National Park
Other Places: Puerto del Carmen - Costa Teguise - Guatiza - Haria - Orzola
Related: Tenerife - Gran Canaria - La Palma - El Hierro - La Gomera - Builders