Calblanque
Pictures and information on Calblanque, a rare unspoilt stretch of coast near to La Manga, Spain.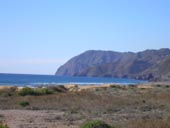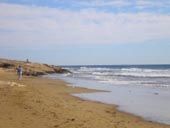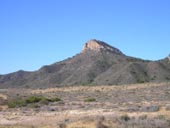 Costa Calida Attractions - Calblanque
Lying just south of La Manga and the Mar Menor on the Costa Calida, province of Murcia, Spain, is a rare stretch of unspoilt Mediterranean coastline known as Calblanque. Now officially named as a Natural Park the area is protected from the development which has spoiled much of the neighbouring coastline.
Calblanque is an area of exceptional beauty and tranquility with fine golden, sandy beaches and clear, sparkling waters. It stretches along 13 km of the coast and consists of beaches, peaceful coves, ancient sand dunes, stunning rock formations, beautiful walking trails and pine forests.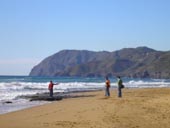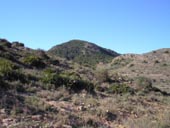 On the outskirts of the park you may be lucky to find the remains of old mines, once producers of silver, copper and tin, a reminder or the area's past history.
Most of all Calblanque is worth visiting for it's peace and tranquility, quiet even in the summer months, it offers a chance to see what Spain's coastline used to look like before the tourist invasion of the 60's and 70's. Visitors should take a moment to think about and thank the local population who fought hard to save the area, which was earmarked for development, and succeeded in having it preserved as a Natural Park in 1987. Long may the tranquility continue!
Nearby Places: La Union - Portman Bay - Torre Pacheco - Roda
Golf Courses: Roda Golf Resort - Mar Menor Golf Resort - Spain Golf Courses
Related: Murcia - Cartagena - Los Alcazares - Mar Menor - San Javier - La Manga - Mazarron - Murcia Airport Transfers - Builders