Saint Mary's Basilica Elche
Interesting article about the Saint Mary's Basilica, Elche, Spain
Costa Blanca Monuments - St Mary's Basilica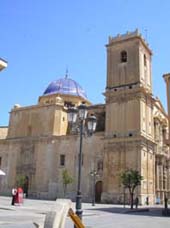 Saint Mary's Basilica Elche - The King of Spain, Amadeus I, visited St. Mary's Basilica in Elche in 1871. He was greeted by hundreds of students waving white palms in the Main Square, today known as Plaza de Baix Square. After admiring the views he declared that 'the town of Elche in the province of Alicante shall bear the title of City of Elche.'
If the views are fit for a King then they are certainly fit for the 'Leader' and we paid our 2 euros entrance fee and climbed the 167 steps up to the Mirador. The climb up the winding, enclosed staircase was worth it as we saw 360-degree views over the city from the palm grove out to the sprawling city limits.
The present Basilica, one of the city of Elche's main landmarks, is the fourth religious building to be found on the site. The foundation stone was laid over 300 years ago this week in 1673 by Franciso Verde and many other architects worked here until the Basilica was finally finished on the 3rd October in 1784.
The Basilica is the only temple in the Catholic world which is allowed to perform within its walls. The Mystèri d'Elx, a sung sacred medieval play has been performing since Pope Urban VIII granted the privilege in 1632. The drama is divided into 2 acts, known as 'la Vespra' and 'la Fiesta' and is played every year on the 14 and 15 August in Elche.
The plays form an important part of the Basilica's heritage. The central dome has eight stained glass windows depicting scenes from the Elche Mystery Play. They show the Virgin making her entrance, followed by her entourage and angels and then finally her coronation. The leading role in the Elche Mystery Play is the Virgin of the Assumption who is depicted in a stained glass window above the aisle of the Puerta del Sol (Door of the Sun).
On the day of our visit we met up with a group of teenagers from Canada on a whirlwind 11-day school trip of the whole of Spain. Samantha, Claire, Tara and Alexandria were having lunch in the Plaza de Baix Square admiring the views. "It's really nice, the architecture is amazing and there's just loads of small, old little streets." Claire, who is originally from Nottingham in England told us. Tara chipped in, "And the shopping here is pretty good."
The four friends who had already mastered the museums in Madrid and sunned themselves in the Costa del Sol, had nothing but praise and compliments for the area and commented on how friendly people in Elche were trying to help them with the language.
But the sign of a good trip and a monument worth visiting is would they return? "Yes," was the resounding reply!
Article provided by kind permission of The Leader Newspaper
Elche Links: Elche Main Page - Elche Map - Elche Weather - Palm Tree Farming - Palm Forest - Rio Safari Pictures
Nearby Places: Elda - Novelda - Crevillente - Monforte del Cid - Biar - Castalla - Santa Pola - Monovar - Sax - Aspe - Jijona - Villena - Los Arenales - Hondon de los Frailes
Attractions: Rio Safari Elche - Fortuna Spas - Santa Barbara Castle
Golf Courses: La Finca Golf - La Marquesa Golf - Spain Golf
Related: Alicante - Valencia - Murcia - Alicante Transfers - Spain - Builders