Palm Tree Farming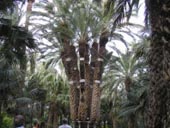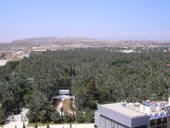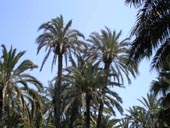 Palm Tree Farming - in Elche Spain
Palm Tree Farming - Elche -The palm tree forests of Elche provide 2 main products - dates (for eating) and white palm leaves (used in Easter celebrations). In order for these products to be available each year, the palm trees have to be cared for, much like any other crop.
During the spring, the palm trees have to be pollinated, as palm trees are either male or female, pollen has to be collected from the male trees and applied to the female palms in order for dates to be produced.
In the summer time the dry leaves must be pruned from the palms to maintain a healthy tree.
The mature dates are picked during the late autumn and the task is called 'munyir'.
For all these operations, the palm tree farmers climb the trees using a system of ropes.
The white palm leaves which are used in the Elche 'Palm Sunday' processions are produced by a method known as 'hooding' ('encaporatxat'), whereby the new palm leaves are covered with a hood and protected from the sun, this results in them taking on a white colour rather than the usual green. The white leaves are hand-crafted into many artistic shapes and creations.
Elche Links: Elche Main Page - Elche Map - Elche Weather - Elche Spain - Saint Mary's Basilica Elche - Elche Alicante - Palm Forest - Rio Safari Pictures
Nearby Places: Elda - Novelda - Crevillente - Monforte del Cid - Biar - Castalla - Santa Pola - Monovar - Sax - Aspe - Jijona - Villena - Los Arenales - Hondon de los Frailes
Attractions: Rio Safari Elche - Fortuna Spas - Santa Barbara Castle
Golf Courses: La Finca Golf - La Marquesa Golf - Spain Golf
Related: Alicante - Valencia - Murcia - Alicante Transfers - Spain - Palm Tree Picture - Palm Tree Pictures - Builders