Palm Forest - Elche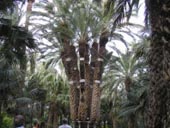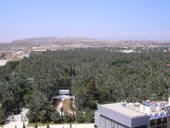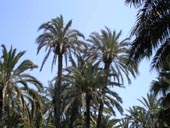 The Story of Elche's Palm Forest
Palm Forest - Elche - The amazing palm tree orchards are by far the most distinctive feature of the landscape of Elche (Elx), not just the surrounding areas, but the urban landscape itself. Numbering over 200,000 specimens, the palm trees dominate the skyline when viewed from afar. What is even more amazing is that this is not a natural palm forest, it was created and designed with a purpose in mind.
The Moors who originally laid out the forest, did so for agricultural purposes, and they created a complex irrigation system to sustain and support it. The Arabs were experts in utilising limited amounts of water, and their methods were developed in the extreme desert conditions of their home lands of Northern Africa and the Middle East.
The date palms themselves of course provided a valuable commodity (edible dates), but to a greater degree, the palms were used to protect other crops at lower levels - the palm trees planted in single or double file, gave protection from the wind and sun, to additional crops such as herbs and fruit trees.
The main irrigation ditch, which the Moors built to bring water to the forest, was called the 'Seguia Major' and this brought water from some 5km away and fed it, via smaller channels, to all areas of the forest. It also provided water for the town (for bathing and other purposes), but as this water was salty in nature, drinking water needed to be obtained from other locations (mainly by the collecting of rainwater).
In order to produce white palm tree fronds (for Easter processions) and edible dates, expert palm tree farming methods are used.
Elche Links: Elche Main Page - Elche Map - Elche Weather - Elche Spain - Saint Mary's Basilica Elche - Palm Tree Farming - Elche Alicante- Rio Safari Pictures
Nearby Places: Elda - Novelda - Crevillente - Monforte del Cid - Biar - Castalla - Santa Pola - Monovar - Sax - Aspe - Jijona - Villena - Los Arenales - Hondon de los Frailes
Attractions: Rio Safari Elche - Fortuna Spas - Santa Barbara Castle
Golf Courses: La Finca Golf - La Marquesa Golf - Spain Golf
Related: Alicante - Valencia - Murcia - Alicante Transfers - Spain - Builders