Guadalest
Guide to Guadalest, a picturesque village on the Costa Blanca, Spain.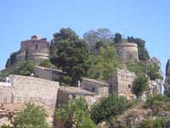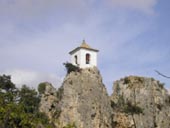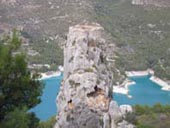 Costa Blanca Villages - Guadalest
Guadalest: Located in the Sierra de Aitana some 25km inland from the Costa Blanca resorts of Benidorm and Altea, Guadalest is an attractive village with a historic castle (Castell) which dates from the Moorish occupation of Spain (8th to 13th centuries). One of the most popular tourist attractions to be found on the Costa Blanca, Guadalest welcomes coaches full of visitors every day throughout the year, coming from all parts of the Alicante region and beyond.
Accessed now, as it was when it was built, by way of a fifteen metre long tunnel, called the "Portal de San Jose", the upper village and castle would have been easy to defend, as this is the only access point, with steep cliffs all around, and house perched precariously on the edges of the mountainside.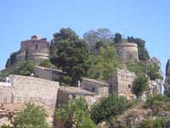 Due to its well protected position, the Moors held out in Guadalest, long after the rest of the region had fell to the Christian reconquest, and it was not until 1609, that they well finally driven out from this place.
The Castell was finally abandoned to the elements, after a huge explosion in 1848, though there are still significant sections remaining, which you can visit, and get an amazing view of the area, and even see the coast in the distance.
The winding lanes which you must take to reach the top of Guadalest, are lined with charming little shops, full of local crafts, produce and gift items. You enter the upper areas (as the Moors did 1,300 years ago) through the "Portal de San Jose". To visit the Castell you must enter the restored house of the Orduña family (now an interesting museum), otherwise, you can carry on to the village square at the top, where you will get spectacular views of the surrounding mountains and also look down to the turquoise coloured Embalse de Guadalest – stunning.
Nearby villages include Benifato, Abdet, Chines Confrides and Benimantell.
Guadalest Links: Guadalest Guide - Guadalest Map - More Guadalest Images - Guadalest Weather - Castle Picture
Nearby Places: Denia - Moraira - Calpe - Altea - Albir - Javea - Villajoyosa - El Campello - Callosa d'en Sarria - Finestrat - Alfaz del Pi - Busot
More Costa Blanca Attractions: Penon de Ifach - Caves of Canelobre - Fuentes de Algar
Golf Courses: Ifach Golf Club - Real Faula Golf - Spain Golf
Related: Valencia - Alicante Weather - Alicante Transfers - Builders