Carp Fishing
Guide to some local Carp fishing lakes.
Fishing for Carp - Some Lakes to Try
Carp Fishing Lakes: Below you will find just a few of the local carp fishing lakes which you can visit to enjoy your favourite pursuit.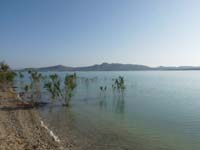 Carp Fishing Lakes - Embalse de Pedrera Torremendo: This lake is free to fish, though of course you will require a local fishing license. The lake can be reached from the A-7 motorway or the A-37 via the CV-95 (between San Miguel and Bigastro), head for Lo Rufete and Torremendo. Much of the lake is difficult to reach with a normal vehicle, though you might manage with a 4x4, otherwise you might need to walk to get to some of the decent swims. The level of the lake has risen considerably recently so local knowledge is useful to avoid submerged trees, bushes and other obstacles. Apart from carp you may also catch barbel and black bass here.
Carp Fishing Lakes - Embalse de Alfonso XIII: Located in beautiful surroundings between Mula and Calasparra, this lake can be accessed via the MU552. This carp lake is also free to fish and again you will need a regional fishing license. Very isolated and quiet, you may easily be the only person here when you visit. Enjoy the wonderful surrounding and fish for carp, barbel and black bass.
Carp Fishing Lakes - Embalse de Amadorio: Just inland from Villajoyosa, the Embalse de Amadorio can be reached via the AP-7 motorway and from the N-332 (head for Oxeta). This fine carp fishing lake is a day ticket venue (you will also need a regional license), and you can expect to catch carp up to 23kg, trout, barbel, and black bass, the lake is well stocked as you would expect from a day ticket venue, you will have more company than at the 2 venues above.
More Carp Fishing Information: Carp Fishing Safaris
Related: River Ebro Catfish Fishing - Builders