Carmona
Guide to Carmona, a historic town located east of Seville in Andalucia.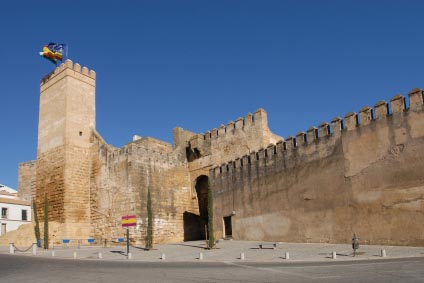 Towns of Andalucia - Carmona
Located about 38 kilometres east of Seville, Carmona has been a fortified town since the 8th century BC, it is well known for its Roman necropolis (Necrópolis Romana), located just outside the town. There is also plenty to see and do within the town itself, and the old quarter clings to the side of a hill, overlooking the newer suburbs.
The tourist office (Tel: 0034 954 190 955) is located in the impressive main gate to the town – the Puerta de Seville, which formed part of the old Moorish city walls. It is possible to visit the upper levels of the gate, where you can see an Arabic patio, together with some older Roman remains.
Also worth a look in Carmona is the 15th century Iglesia de Santa Maria la Mayor  church, which was built on the site of a former Arabic mosque, the ruins of Pedro the Cruel's palace (the Alcazar del Rey Pedro), the 18th century Town Hall (ayuntamiento), and the Puerto de Córdoba, originally a Roman gateway to the town.
Carmona Fiestas: Carmona of course celebrates numerous festivals and fiestas throughout the year, these include the Carnival (February), the Mayas (May), the Corpus Christi (May/June), and the Pilgrimmage of San Mateo in September.
Carmona has a population of around 25,000 and can be reached via the A4 (E-5) from Seville, there are also regular buses running from Seville to Carmona.
Carmona Links: Carmona Map - Carmona Weather
Carmona Property: Advertise your Carmona property on this page: Advertise Here.
Andalucia Golf: Marbella Golf - Mijas Golf - More Spanish Golf
Carmona Hotels: Alcazar de la Reina Hotel (0034 954 196 201)
Seville Links: Seville Guide - Seville Tourist Attractions - Seville Map - Seville Weather - Utrera
Related: Costa del Sol - Torremolinos - Fuengirola - Malaga - Mijas - Marbella - Puerto Banus - Estepona - Ronda - Calahonda - Granada - Builders