Callosa de Segura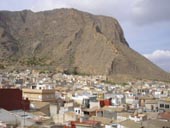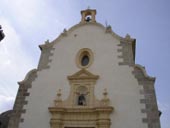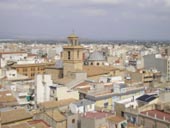 Callosa de Segura - Costa Blanca - Spain
Callosa de Segura: A sizeable town lying to the north-east of Orihuela, Callosa de Segura, is another of the Vega Baja towns which is well worth a visit if you are in the southern Costa Blanca area.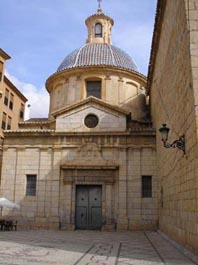 Callosa de Segura has a population of around 17,000 and a municipal area of 25 square kilometres, it is overlooked by the Callosa de Segura mountains, under which the town is nestled.
View the town from the San Roque Hermitage, which gives a good vantage point, look up the mountain to see the ruins of Callosa Castle built by the Moors during their occupation of Spain. The San Roque Hermitage took over 200 years to build and was begun in 1579.
Other places to visit in Callosa de Segura include the St Martin's Church, with its charismatic blue domed roof, the Hemp & Agricultural Museum, the Fiesta Museum, the Holy Week Museum and the Archaeological Museum (all museum housed in the old Town Slaughterhouse).
The street around the church and the hermitage are narrow, so walking is recommended (I know because I made the mistake of driving there!).
Callosa de Segura can be accessed from junction 79 of the A-7 motorway, following the CV900, or junction 733 of the AP-7, using the CV911, close by villages are Cox, San Bartolome, Rafal, San Isidro, Redovan and San Jose.
Callosa de Segura Links: Street Map of Callosa de Segura - Callosa de Segura Weather - Callosa de Segura Map - Large Church Picture
Nearby Villages: Santomera - Hondon de los Frailes - Benferri - Catral - San Bartolome - Dolores - Crevillente
Golf Courses: La Finca - La Marquesa - Spain Golf Courses
Related: Torrevieja - Alicante - Valencia - Murcia - Orihuela Costa - Ciudad Quesada - Alicante Airport Transfers - Builders