Estepona Factfile
Use this handy factfile to get information on the resort of Estepona, Spain.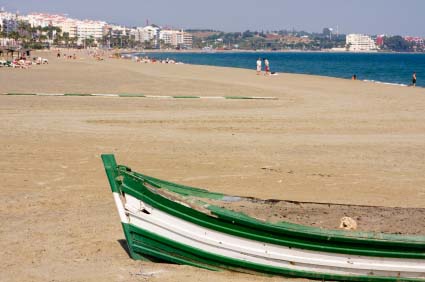 Estepona - Costa del Sol - Spain
Location: Estepona, east of Marbella, Malaga province, Andalucia, southern Spain.
Population: 60,000.
Municipal Area: 137 square kilometres.
Estepona Tourist Information Office: Avenida San Lorenzo 1, Tel: (0034) 952-800-913.
Estepona Fiestas: Fiesta de San Juan (June), Summer Fair (July).
Estepona Shopping: Town centre, Calle Real and Calle Terraza.
Estepona Markets: Tourist market at Marina on Sundays, Closed Market near Plaza del Reloj, mornings, daily, Rastro on Avenida Juan Carlos on Wednesday mornings.
Estepona Hotels: Hotel Bahia Estepona, the Selenza Estepona Thalasso and Spa and the Atalaya Park Golf Hotel.
Estepona Beaches: Playa la Rada, Playa El Padron, Playa El Cristo.
Estepona Attractions: Fishing harbour and marina, Aqueduct de Saladavieja, La Torre del Reloj, Bullring, La Ermita del Calvario, Archaeological Museum.
Estepona History: Possibly originally Roman, settled by Moors in 8th century, recaptured by Christians 1457, granted charter 1729, enters 20th century as fishing and farming village, late 20th century arrival of tourism.
Estepona Restaurants: La Aborada, quayside (952-802-047), The Fig Tree (952-888-978), Felix Brasserie (951-053-661).
Estepona Bars: Milonga (Calle Caridad), Kronen (Calle Real), Bar 97 (Calle Caridad), Bar La Albariza (Urb. Tres Banderas).
Estepona Airport: Nearest airports Gibraltar 45 km, Malaga 80 km, Seville 130 km.
Estepona Golf: Estepona Golf Club, Valle Romano Golf and Resort, Casares Costa Golf, Dona Julia Golf Club.
VIEW HOLIDAY HOMES IN ESTEPONA HERE ->>>

Estepona Links: Estepona Guide - Estepona Map - Estepona Weather
Related: Torremolinos - Fuengirola - Mijas - Villacana - Puerto Banus - Ronda - Calahonda - Granada - Builders