El Hierro
Guide to El Hierro, one of the Spanish Canary Islands.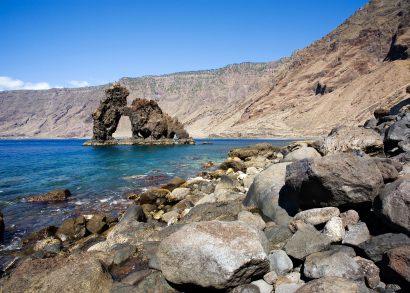 The Canary Islands - El Hierro
El Hierro - Canary Islands - Smallest of the main Canary Islands group, El Hierro is also the most westerly, in fact it was the most westerly point known to ancient European geographers. Covering an area of just 278 square kilometres and having a population of just over 10,000, El Hierro has only one sizeable town, Valverde, and is virtually untouched by tourism.
El Hierro is a mountainous island, having some five hundred volcanic peaks in all, the last eruption on the island occurred around 200 years ago. El Hierro was originally larger than it is today but lost one third of its area to an earthquake 50,000 years ago.
El Hierro was originally populated by a tribe known as the Bimbache, most of whom were later sold into slavery after the arrival of Norman and Castillian settlers. The local inhabitants today survive much as they have for centuries, through fishing and agriculture, with grapes, bananas and tomatoes the leading crops.
Unlike the other Canary Islands, El Hierro gains little economically from tourism, mainly due to the complete lack of beaches (the coast is ringed with steep cliffs apart from the area around Valverde), hotels are non-existent and accommodation hard to come by. With no industry at all on the island, handicrafts reign supreme in El Hierro, and local markets abound with articles of woodcarving, pottery and weaving, produced by the island's craftsmen.
El Hierro was often known as "Meridian Island", as it was formerly used as the prime meridian by all Europeans apart from the British.
Useful Links: Canary Islands Information - Canary Islands History
Related: Fuerteventura - Tenerife - Gran Canaria - La Palma - Lanzarote - La Gomera - Spain - Builders