Buenos Aires
Guide to Buenos Aires, the capital city of Argentina in South America.
Cities of the World - Buenos Aires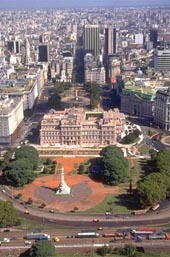 Buenos Aires - The largest city in Argentina with a population of nearly 3 million, Buenos Aires is also the countries capital. Buenos Aires ('Fair Winds') is situated on the banks of the Rio de la Plata and was founded by Pedro de Mendoza for the Spanish in 1536. Famous as the home of the dance the Tango, Buenos Aires is a vibrant, modern city.
The port of Buenos Aires is one of the busiest in the world and the city has become the financial and commercial centre of Argentina. Sometimes referred to as 'The Paris of South America', because of the widespread European cultural influences that exist in the city, Buenos Aires has a wide variety of architectural styles reflecting not just the Spanish influence but also Italian, French and German.
The city has wide streets and plenty of green areas, its many churches are intermingled with modern houses and high-rise skyscrapers. Buenos Aires is also notable for its sculptures of which there are hundreds throughout the city.
Buenos Aires is now attracting the attention of International property buyers looking for a good investment, and property prices in the city and Argentina in gereral have been rising over the last 3 years at an average of 20% per year. This represents a good return by any standards. There is considerable property development going on in Buenos Aires and there are plenty of high quality properties on offer.
When searching for a property in Buenos Aires you should take note of the area that it is located in, as with all cities there are good and bad areas. Two excellent areas that you might consider when seeking out a good value Buenos Aires property are Palermo and Puerto Madero, Palermo is certainly the hippest area of the city and Puerto Madero is a modern, emerging district.
Buenos Aires Links: Buenos Aires Weather - Buenos Aires Map
Related: Travel Articles - Spanish Articles - Other Places - Builders