Benalmadena Spain
Review of Benalmadena one of the Costa del Sol's best known resorts.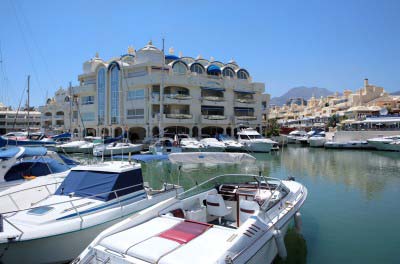 Benalmadena - Holidays - Rentals - Car Hire - Transfers
Benalmadena: Situated around 19 km west of Malaga and its international airport, the seaside resort of Benalmadena is a well known and popular holiday destination. Located in the area known as the Costa del Sol (Sunshine Coast), Benalmadena and its neighbouring resorts of Torremolinos and Fuengirola are within the province of Malaga and the larger region of Andalucia.
Benalmadena boasts a fabulous mild climate and has some excellent beaches, helping to make it a truly all-year round resort.
Benalmadena comprises three distinct areas, the beachfront area known as Benalmadena Costa, virtually an extension of Torremolinos, the original old town - Benalmadena Pueblo dating from the times of the Moors who founded the town during their occupation of the area, and the modern commercial area of Arroyo de la Miel.
In the coastal area of Benalmadena you will find around 9 kilometres of excellent sandy beaches, and also the Puerto Marina, a modern marina with berths for almost 1000 craft, the residencial development that is part of the marina is almost like a self-contained village. During the summer season the bars and restaurants of the marina are buzzing with people and this is definately the in-place to be seen. Also in this area is the Sea Life Centre, one of the resorts best loved attractions. Benalmadena also boasts a wide range of water sports facilities.
The old town (Benalmadena Pueblo) was originally built by the Moors, though it is thought that there may have been an even earlier Roman site, this area still retains much of its original small-town atmosphere, with its winding narrow streets lined with traditional whitewashed houses. However the old town, much like this entire stretch of coast has been heavily developed and the effect of this cannot be denied.
The modern commercial development of Arroyo de la Miel was originally developed from just a few farmhouses, here you will find the famous Tivoli World fairground covering an area of some 25 acres and offering a large number of amusements and rides and some great entertainment and live shows.
There are plenty of hotels and rental accommodation available along the Benalmadena Costa and you should have no trouble finding somewhere suitable to stay. Golf facilities include the renowned Torrequebrada golf course. You can find the cheapest Benalmadena hotel deals by using the search box to the right, which compares dozens of hotel booking websites.
Visitors will no doubt want to take a trip into nearby Torremolinos and enjoy some of the excellent nighlife which that popular resort has to offer, other may head for the chic Marbella just a little further south, renowned for being the playground of the rich and famous. Those seeking tradition and culture will prefer to head inland and visit some of the beautiful Andalucian 'white villages', like Mijas, the historical towns such as Ronda or perhaps the ancient cities of Granada, Seville or Córdoba. A visit to the British occupied area of Gibraltar should also be on the agenda.
Benalmadena is located on both sides of the AP-7 motorway and can be easily reached from Malaga airport which is about 15 kilometres away.
The picture at the top of this page is of Benalmadena port.
Links: Benalmadena Map - Benalmadena Weather
FIND HOLIDAY RENTALS IN BENALMADENA HERE ->>>

Benalmadena airport driving distances: Malaga airport to Benalmadena is a driving distance of 15 kilometres (9 miles), Gibraltar airport to Benalmadena is a driving distance of 86 kilometres (53 miles), Granada airport to Benalmadena is a driving distance of 130 kilometres (81 miles), Jerez airport to Benalmadena is a driving distance of 215 kilometres (134 miles).
Benalmadena Golf: Torrequebrada Golf - Mijas Golf - Spain Golf
Related: Fuengirola - Puerto Banus - Nerja - Estepona - Ronda - Torrox - Almunecar - Calahonda - Frigiliana - Salobrena - Builders